Kingdom Building Planning Team (KBPT)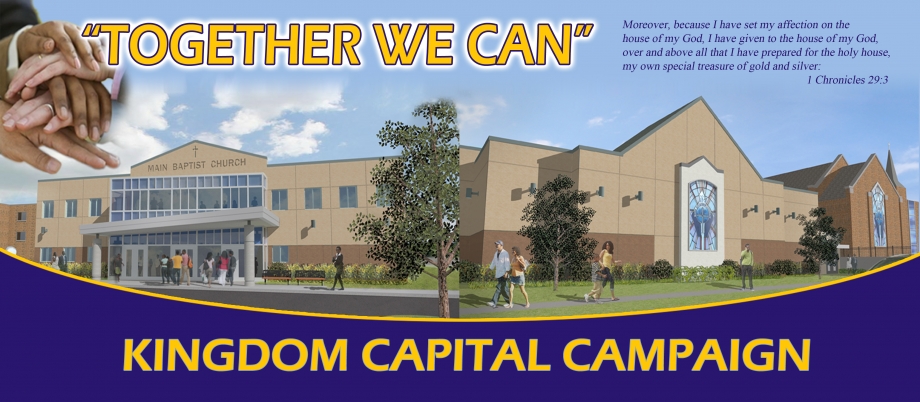 We believe in the building of God's Kingdom and want to be part of its ministry.
We will endeavor to support our Church by giving as noted. We also commit
ourselves to prayer, and to a continued openness to God's leading in this matter.
Campaign Objective
Build and expand the physical plant of Main Baptist Church
• Adding new 800+ seating, ground-level access sanctuary,
• Re-purpose use of original sanctuary as children & youth church,
classrooms, and other multi-use space
• Expand and enhance parking
Campaign Process
• Raise $6.2 million in pledged and planned giving over a 5-year period
• Semi-annual updates and progress reports March and September of each year
• Members to make both an initial cash sacrificial gift and planned gift

A simplified process based upon multi-levels of giving will allow everyone to
participate in Kingdom Building right where you are:
• Level I: $1 - $999,
• Level II: $1,000 to $4,999,
• Level III: $5,000 to $24,999,
• Level IV: $25,000 to $99,999, and
• Level V: $100,000 plus
Campaign Budget
(Money) $6.2 Million Total Project Cost
• $5.2 million new sanctuary addition and site work
• $700,000 for furnishing & equipment,
• $300,000 for cost over-run
Construction Process
• Planning and Design, City & City Engineers
Final Application/Approval,
• Site Development, Construction and
Build-Out
• Celebration Worship Service—marching
into new sanctuary!