Every day it seems that the world is bombarding men with mixed messages about their relationships, success, and happiness. Now, more than ever, it takes much fortitude and of course faith in God to be the kind of men God wants us to be for ourselves, family, and community. Main is here to stand shoulder-to-shoulder with you as we together pursue God's design for manhood.
Connection Points: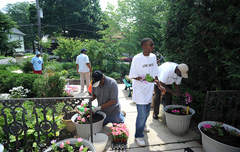 Minister Richard Perkins (all foreground, from left) Minister Kenneth Dickson and Brother Eitel Singleton, along with other men of Main Baptist Church help landscape the grounds of Mutual Ground in Aurora as part of their Father's Day project in conjunction with United Way and Ginger Creek Community Church. Read the article here.
Have Questions?
For more information, contact Minister Kenneth Dickson at the email listed below.