Prayer is the language of communicating with God. He invites us to have communion and fellowship with him as an expression of worship and whenever we need help. We offer several ways for you to have others involved in lifting your prayer requests and praise reports to the Lord.
Connection Points: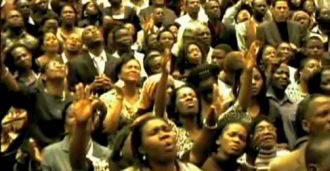 Add Your Request to the Weekly Prayer List
Members of the Prayer Team as well as the church at large receive the church's printed prayer list each week and will pray for your requests. You can add your request to this list in one of three ways:
Call the church office with your request and contact information @ 630.898.7727.
Contact us online with your request and contact information.
Use the form located in the Outer Court and across from the Prayer Room. Simply write down your request and praise report; place the form in the designated box.
Post Your Requests and Praise Reports to the Online Prayer & Praise Center
The Online Prayer & Praise Center allows anyone to post a prayer request or praise report. Main reviews requests prior to posting them to the site. Submit your items here to our online center.
Participate in Intercessory Prayer on Sunday Morning
Engage in Intercessory Prayer for Sunday's worship service, prior to services, in the sanctuary.
Attend Corporate Prayer
Join the Prayer Team as we assist the Deacons on Wednesday night at 6:30 pm. Corporate Prayer happens when at least "two or three Believers" are present in one place, their unity of faith and prayer being of such a degree that when they harmonize together in agreement with God's Will and His Word, God intervenes and brings to pass the specific request. In Matthew 18:19 - 20 it states Believers may ask for anything and He will command His blessing!
Participate on the Prayer Conference Line
Join us in weekly prayer every Monday morning at 6:00 a.m. and Monday evening at 8:00 p.m. by calling 1.218.862.1000; code 535169# .
Attend Monthly Meetings
This team meets every second Tuesday @ 6 pm in the Minister's Lounge.
Need More Information?
Contact the persons listed below.

Phillipians 4: 6-7 "Be careful for nothing, but in everything by prayer and supplication with thanksgiving , let your request be made known unto God. And, the peace of God, which passeth all understanding, shall keep your hearts and minds through Christ Jesus".